The reporter learned from the Guangdong Provincial Economic and Information Committee yesterday that this year the province will also promote 8 million energy-saving lamps, which can be purchased at half price for ordinary residents. The cheapest is only 3.35 yuan/only. Guangzhou citizens can get 1.3 million of them, and nearly 100 communities can enjoy the discount.
Strive to enter the community in September
Since 2008, the country has promoted energy-saving lamps nationwide, replacing high-energy incandescent lamps, and it is now the third year. In 2010, 8 million energy-saving lamps will continue to be promoted throughout the province, and some of the remote and backward mountain areas will also enjoy this benefit-based measure.
Ordinary resident users only need to buy energy-saving lamps at 50% of the bidding price, and the remaining 50% will be subsidized by financial allocation. Business users also pay only 70% of the price. Currently, cities are developing specific promotion programs. According to Xu Bin, the project leader of Zhongshan Oupu Lighting Co., Ltd., one of the successful bidders, the initial plan is to jointly save the energy-saving center of the province, and prioritize the communities that have not been promoted before, and strive to enter the community in September.
The reporter saw in this year's promotion plan that 21 provinces above the prefecture level can enjoy this preferential policy. Among them, Guangzhou, Shenzhen, Foshan, Zhongshan and Maoming are among the top five. It is 1.3 million, 1 million, 1 million, 840,000 and 700,000.
The reporter inquired about the bid-winning price list of each enterprise and found that the average consumer's 5~8-watt energy-saving lamps are used as examples. The prices of the eight successful bidders are 6.5 yuan/only, 6.7 yuan/only and 7.6 yuan/only. According to the 50% financial subsidy, residents only need to spend 3.35 yuan to 3.8 yuan to buy an energy-saving lamp, which is nearly 10 yuan cheaper than the retail price of the supermarket.
Require enterprises to recycle waste energy-saving lamps
It is a good thing for the finance to subsidize the public to buy energy-saving lamps. However, if these energy-saving lamps cannot be effectively disposed of when they are scrapped in the future, they are much more serious than ordinary incandescent lamps. This issue was exposed and reported by many media last year. At that time, economic, environmental, environmental sanitation and other departments accepted the Information Times reporters interviewed that the country has not yet established a recycling system for energy-saving lamps.
According to reports at the time, because the energy-saving lamps contain mercury vapor, mercury is also known as mercury. It is a kind of toxic liquid metal. Whether it is incineration or landfill, the mercury in the energy-saving lamp will be Water and soil cause great pollution. Even research data shows that an energy-saving lamp has an average of 0.5 milligrams of mercury, and infiltration into the ground will cause pollution of about 180 tons of water. Take Guangzhou as an example. Last year, subsidies were promoted to promote 650,000 energy-saving lamps. If it is improperly recycled, it will pollute 117 million tons of water, which is equivalent to the storage capacity of nearly 7 Furongyu Reservoirs in Huadu.
This year, in response to this issue, the promotion plan clearly stated that the promotion enterprises must fulfill the relevant commitments at the time of bidding, establish a recycling mechanism for used lamps, ensure that the recycling of waste lamps is achieved, and reduce mercury pollution. If the company does not fulfill its promise, it may lose its promotion qualification.
●Guangdong promoted 8 million this year
● Guangzhou citizens can get 1.3 million
●Citizens can buy at half price
● Nearly 100 communities can enjoy the discount
● 3.35 yuan ~ 3.8 yuan can buy one
● Nearly 10 yuan cheaper than the supermarket

SPI LED Strip Light including the WS2801, WS2811, USC1903, ect. led rgb pixel strip. It is 3 leds 1 pixel type digital led strip. 60leds/m and 30leds/m led addressable led tape are available. High quality and cheap price. widely used for outline profile decoration, clubs, pubs, and so on. With ISEELED Dmx Decoder, it also can work with Artnet and DMX control system. IP20, IP65, IP67 and IP68 led pixel flexible strip are availble.
Photo show of SPI LED Flexible Strip Light: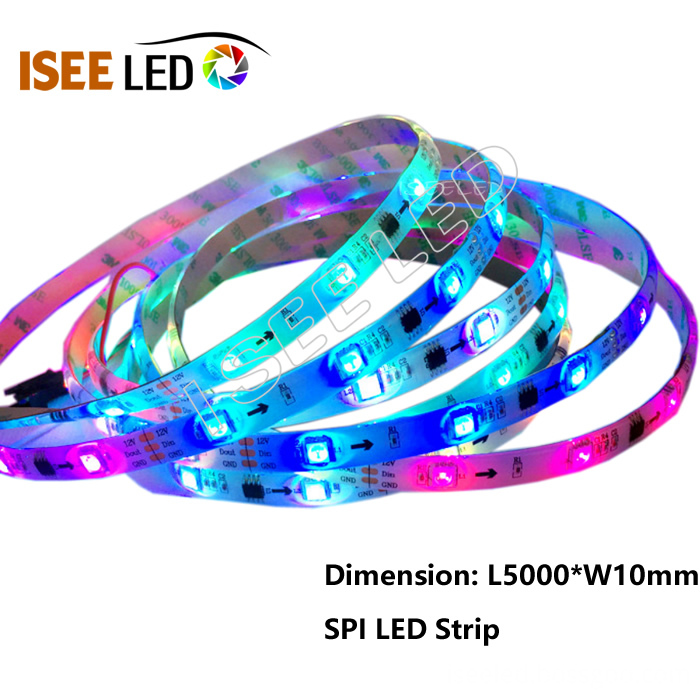 Spi Led Flexible Strip Light,Addressable Led Strip,12V Led Strip Lights,Multi Color Led Strip
Shenzhen Iseeled Technology Co., Ltd. , http://www.iseeledlight.com