[Text|High-tech LED reporter Luo Shenghua]
In the post-modernization of the domestic lighting market, there is a surge in performance brought about by the rapid opening of the lighting market, and a corporate failure crisis caused by increased competition. The lighting industry has experienced a consolidation and expansion in 2014, and the pattern has become relatively clear.
However, relatively clear represents that there are still opportunities in the industry. In the absence of a complete clarification of the lighting industry, no company is willing to sit still and waste any opportunities that may exist.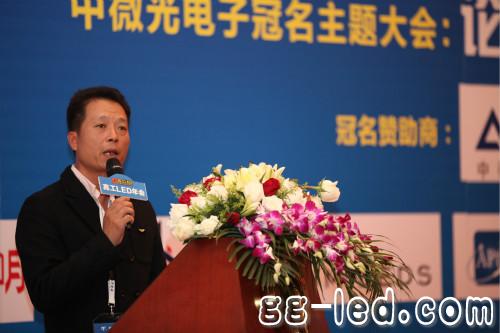 Sanxiong·Aurora Deputy General Manager Chen Songhui
The Chinese lighting market has quickly become the main battleground for corporate Nuggets. On the one hand, the domestic traditional lighting industry is growing strongly, while the LED companies with scale advantages are quickly sprinting, while the other side is the crisis of small and medium-sized enterprises. At the same time, in a hustle and bustle, the giants gathered in China to grab the domestic lighting market.
For the domestic lighting market, the capital level is also sung together. Listed companies such as Weiwei, Qinshang Optoelectronics and Tsinghua Tongfang have expanded their scale through capital integration to quickly occupy the domestic lighting market.
The domestic lighting market is improving, but the rising tide of bankruptcy once again reminds investors that the domestic lighting market is surging, and while the company is expanding its scale, the correct brand strategy is of paramount importance.
"Any strategic choice should not be imagined. In addition to conforming to the big trend, it must be compatible with its own advantages and the stage of development. The goal can be grand, but the road must go step by step." Guangdong Sanxiong·Aurora Chen Songhui, deputy general manager of Lighting Co., Ltd., said at the high-tech conference on December 12 that was held by Zhongweiguang Electronics on the theme of "The Great Strategy of the Industry".
Chen Songhui believes that the current status of the ambush after the pursuit of the soldiers in the test of the operation and management capabilities of the lighting companies, but also test the patience between each enterprise's decision-making level.
With the advancement of LED lighting, the domestic lighting market and entering a competitive "window", the industry's reshuffle is quietly increasing.
In the face of shuffling, the industry generally believes that brand differentiation should be built on the basis of ensuring quality service, further deepening the influence of its own brand in the hearts of consumers, so that the entire lighting industry is more standardized and mature, so that consumers enjoy Services and products will also be more guaranteed.
However, the enrichment and optimization of any channel and the deepening of the hearts of any brand are definitely not the skills of the day and night. It is necessary to insist on patience.

Sport In-ear Bluetooth Headset
Creative Sports Earphones,Wireless Sport Earbuds,Bluetooth Sports Earbuds,Best Wireless Earbuds For Running
Dongguang Vowsound Electronics Co., Ltd. , https://www.vowsound.com