Model NO.:

FV20C/2-150 PV(S)

Installation:

Parallel Arrester

Size:

Small

Certification:

ROHS, ISO9001, CE

Color:

Gray

Speed:

<25ns

No. of Poles:

2poles

UC:

150V DC

Protection level:

Class C protection

Trademark:

FATECH, OEM is welcome

Specification:

CE

HS Code:

85363000
Type:

Power Source Arrester

Application:

AC/DC System

Operation Voltage:

Low Voltage

Brand:

FATECH

Protection Mode:

L+-PE, L- - PE

Function:

Surge Protection for PV System in DC Side

OEM&ODM:

Welcome

Housing material:

UL94V0

Imax:

40ka

Transport Package:

1 PC Surge Arrester in One Inner Box

Origin:

China

DC surge protection FV20C/2-150PV S is for photovoltaic (PV) solar protection 150V DC, Imax 40kA, 2 poles.
1. DC surge protection for photovoltaic system Characteristic  FV20C/2-150PV S
-DC surge protection device specially used for solar photovoltaic system 150Vdc. 
-The core parts are metal oxide vristor components with high discharge capacity. 
-With Reliable control thanks to Thermo Dynamic Control disconnector. 
-With remote signaling contact for control device. 
-Fault indication via red mark in the inspection window.
2. Features of photovoltaic DC surge protection FV20C/2-150PV S :
There is a thermal cutoff member inside the photovoltaic DC surge arrestor, when the protector is over-current or over-voltage and the puncture is nonseviceable, the thermal cutoff member will automatically separate from the photovoltaic DC surge protector from the electrical network, and the indication window will turn red from green.
3. APPLICATION of DC surge protection FV20C/2-150PV S
Solar Panel, Photovoltaic (PV) System.
4. 
Dimension circuit and installation of DC surge arresters (solar panel lightning protection) FV20C/2-150PVS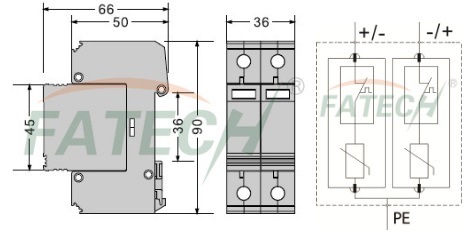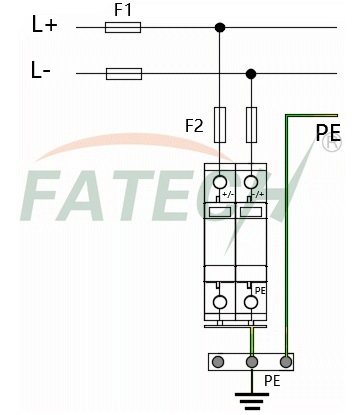 WHY CHOOSE US
 
FATECH ELECTRONIC CO., LTD., is located in Guangdong Provincial New Light Production Base, CHINA, which is a professional manufacturer on R&D and producing on surge protection products. Our company gathered all kinds of high-skillled personnels, including authority technical experts and professionals, and excellent technicians with more than 10 years experience. In-house testing lab. guarantee out-going products quality. Products are certified with TUV, CE; UL pending, 90% material are UL approved. Â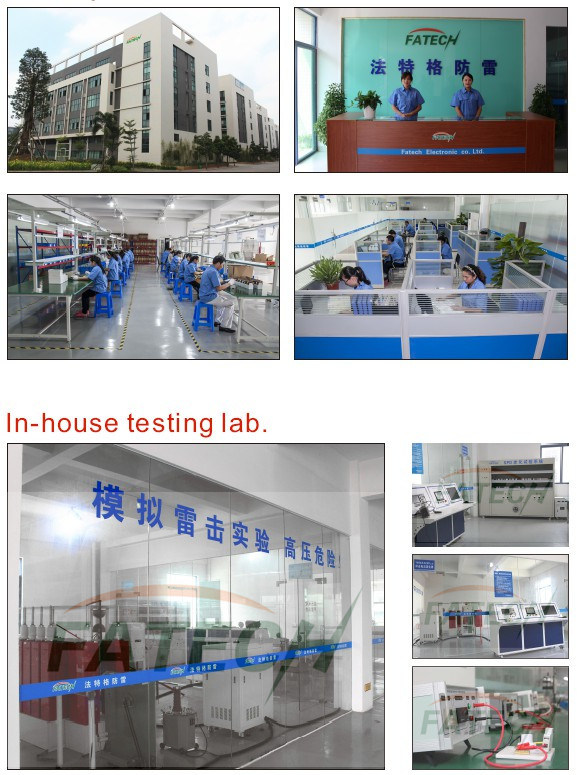 Our in-house test lab.:We established an independent testing laboratory, including reliability testing laboratory, environmental aging testing laboratory, release testing laboratory, which can be performed te
sts below:
Impulse current generator (8/20 μS/160kA and 10/350μS/20kA)
Thermal stability tester
Salt Spray Chamber
Multi-function Varistor Tester
On-line Aging Tester
Dielectric Voltage Withstand Tester
1.2/50 Voltage Impulse Generator
Environment Stimulating Tester
Lightning Surge Counter Tester
 
Our global partners:
We are now exporting more than 100 countries and areas, mainly in Europe, Asia, Latin-America, and Middle East. Our global partner including 
Ericsson
Sri Lanka Telecom
Siemens
 
Our certificates: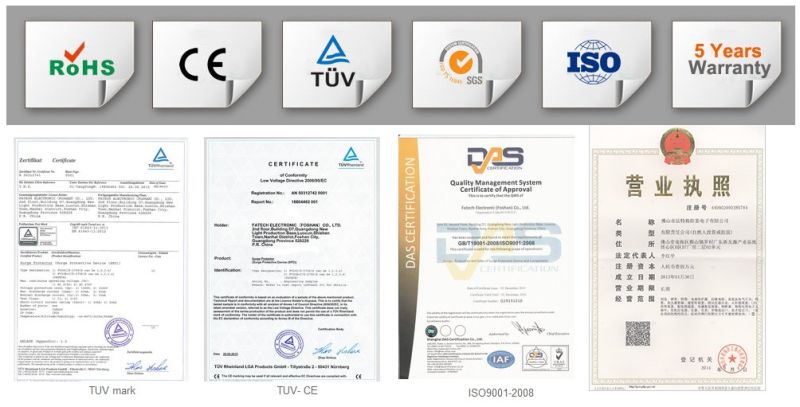 We also can supply DC surge protective device for photovoltaic (PV) system protection 1000VDC, surge protective device with Imax=60kA, 150kA. And type B lightning protective device with spark gap.
If you are interested in, please feel free contact to me!
| | | | |
| --- | --- | --- | --- |
| Â  Model No.: FV20C/2-150PV S | Â  | Â  | Â  |
| Â  Max. continuous DC voltage[(L+/L-)-> PE]/ [L+-> L-] | Â  Uc pv | Â  V | 150 |
| Â  Requirement class to DIN EN 61643-1: 2005 | Â  | Â  | Â  Class C |
|   Nominal Discharge current(8/20μ s) |   In |   kA | 20 |
|   Max. discharge current (8/20μ s) |   Imax |   kA | 40 |
| Â  Voltage protection level (at In) [(L+/L-)-> PE]/ [L+-> L-] | Â  Up | Â  kV | Â <=0.8 |
| Â  Response time | Â  tA | Â  ns | Â 25 |
| Â  Operation temperature range | Â  | Â  | Â Â  -40 ~ +85degree |
| Â  Degree of protection | Â  | Â  | Â  IP20 |
| Â  Remote control contacts | Â  | Â  | YES |
Solar power system inside,energy saving, easy for repairing. Soft light and beautiful appearance, for decorating, used in park, garden house and green belt. Solar Lawn Lamp used all-Aluminum Construction with Strong and Elegant Pole, Perfect decorative effect by down light, our solar lawn lamp used 100% solar powered, wireless connection and over 2 night long lighting time, waterproof IP65.

Solar Lawn Lamp
Solar Lawn Lamp,Landscape Lighting,Lawn Lights,Solar Yard Lights
Yangzhou Urban New Energy Co.,Ltd , http://www.urban-solarenergy.com