Adopting the integrated seamless seamless fillet design process, Haimei Di Mango Q Q8 is the second generation. It adopts champagne color scheme and metal material body. The texture is first-class and fashionable and full of flavor. The body uses Hass quad-core processor, equipped with 8G massive flash memory, provides H.265 high-quality video decoding capabilities, 4K high-definition video online play smooth and stable. HIUI interactive interface design fashion, one-click support search, set the function.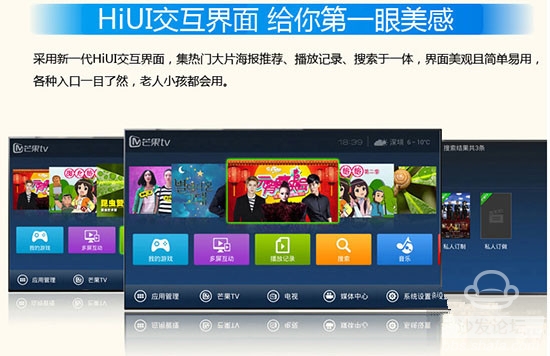 Haimei Di Mango 嗨 Q H8 ​​II
Mango Q QII adopts exclusive HIUI interactive interface, the interface style is simple and fresh, playing records, search and all kinds of commonly used applications at a glance, you can also customize the entrance, the interface is beautiful and intuitive.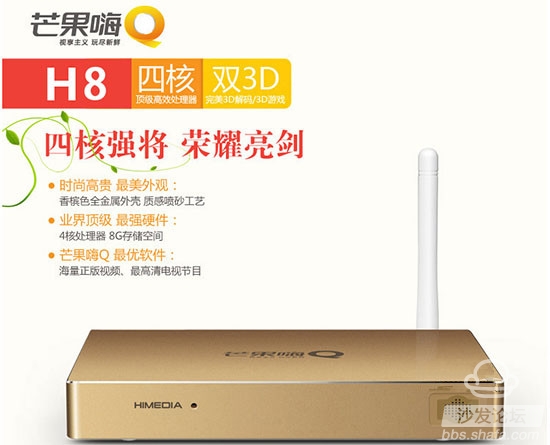 Haimei Di Mango 嗨 Q H8 ​​II
Mango Que Q H8 ​​II has licensed Mango TV, and can enjoy video, TV drama, anime, sports and other videos as well as Hunan Satellite TV's strong variety shows, providing 1080P, Dolby, 3D and other high-quality video zones. , rich in content and quality.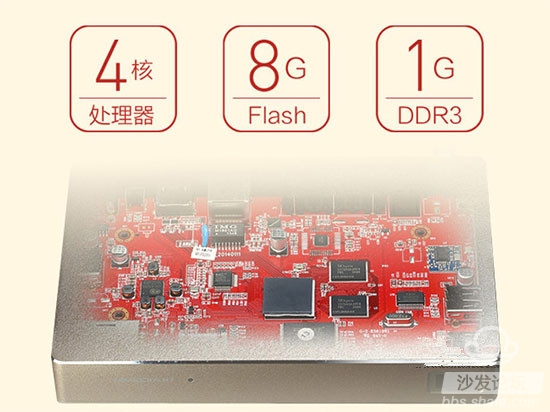 Haimei Di Mango 嗨 Q H8 ​​II
Mango Q Q8 is equipped with Hass quad-core processor, top-level hardware configuration with 8G massive flash memory 1G, and has a powerful local playback function, mainstream audio formats, Blu-ray 3D, 1080P and other audio and video files can be perfect Play and support H.265 high quality video decoding.
The second generation TV box of Mango Q Q8 with champagne metal material adopts exclusive HIUI interactive interface, built-in mango TV broadcast control platform, with but not limited to Hunan Satellite TV program content. Carousel channels, 4K area, everything, H.265 hard solution technology is to provide you with an excellent video playback function, saving you bandwidth, but also access to high-definition video resources.
Mango Q Q8 second generation interface is very rich, the side has 2 USB2.0, 1 high speed USB3.0 interface and an SD / MMC card reader, to facilitate the user to read the movie inside the external hard drive, the machine behind the left Right are SPDIF digital optical fiber output, CVBS composite video, RJ-45 network interface, HDMI port, compatible with old-fashioned CRT and new flat-panel TV.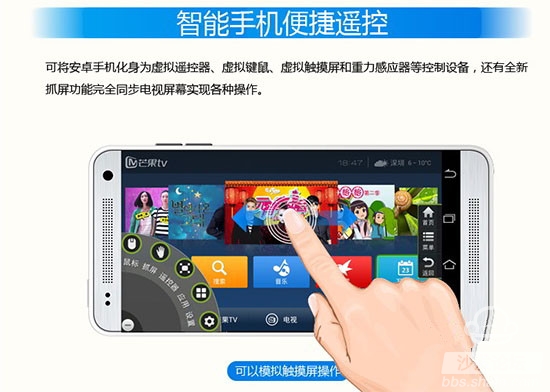 Haimei Di Mango 嗨 Q H8 ​​II
Mango 嗨 Q H8 ​​second generation champagne full metal shell, high-end material, impeccable texture, integrated seamless fillet design, full of beauty, metal shell, making the mango 嗨 Q second generation of cooling effect is good.
Haimeidi mango 嗨 Q H8 ​​second generation fuselage configuration USB3.0 interface, transmission data rate greatly improved. Provides exclusive multi-screen interactive, HIUI interactive interface, mango Liveshow and many other entertainment features, WeChat push, voice search, screencast and other functions can easily enjoy.
A backup camera (also called reversing camera) is a special type of video camera that is produced specifically for the purpose of being attached to the rear of a vehicle to aid in backing up, and to alleviate the rear blind spot. Backup cameras are alternatively known as reversing cameras or rear view cameras. It is specifically designed to avoid a backup collision. Backup cameras are usually connected to the vehicle rearview monitors.
Vehicle Backup Camera,Mirror Backup Camera,Vehicle Mirror Backup Camera,Vehicle Heavy Duty Camera
Shenzhen Sunveytech Co.,LTD , https://www.sunveytech.com