Huawei said that Wu Bin caused huge losses to the company. It is understood that there were six former Huawei employees, including Wu Bin, Zhang Huimin and Li Jingjing.
It is about to pass the New Year, and the six former employees of Huawei are estimated to be in the detention center for the New Year.
According to Xinhuanet, on January 17, Huawei issued an internal anti-corruption express, saying that the former consumer BG hardware engineering design department minister Wu Bin, joined Huawei in January 1998, and resigned in June 2015, suspected of infringing company knowledge. Property rights were detained by the Longgang Public Security Bureau on December 18, 2016, and were arrested on January 17.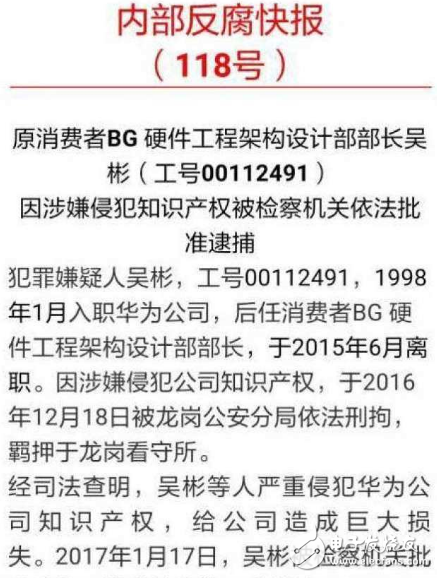 Some insiders said that Zhang Huimin is the chief architect of Huawei P6. The P6 design team has won the Huawei internal award, and a P6 raised 1 yuan as a reward, rewarding millions of yuan. (in RMB, the same below)
Several platform companies involved in the company involved in the case are related to LeTV
Huawei said that the former employees took Huawei's intellectual property rights to make money outside, which caused huge losses to the company. However, Huawei is not willing to link this action directly to a company. This is in line with Huawei's consistent style. I don't like to compete for lengthy things in public opinion, but I don't want to do anything at all. If necessary, I will enter the judicial process.
The purpose of Huawei is to shock the employees and former employees who have mastered the company's secrets. At the same time, it is aimed at shocking competitors, not to mention the names of competitors. It is hoped that the smaller the resistance, the better. The details have yet to be disclosed, but through the employees involved before the case and the two platform companies, the outside world can see the clues.
One of the companies is Shenzhen Zhongsi Technology Co., Ltd., which was established on November 17, 2015. The legal representative is Abercrombie Abermindi, the vice president of LeTV's strategy. The single largest shareholder is LeTV Mobile Investment (limited). .
The current team members of Zhongsi Technology are mainly from Huawei. They have helped LeTV Mobile to undertake mobile ODM business. Wu Bin, who was arrested this time, is the vice president of Zhongsi Technology. Wu Shimin, the representative of Hezhong Zhuang Zhuang, is the former director of Huawei's former Beijing Research Institute and the former head of Huawei's glory, Liu Jiangfeng, as its CEO.
It is said that Zhongsi Technology has merged with Coolpad.
The other is Shanghai Yishi Network Technology Co., Ltd., Wu Bin is the company's shareholder executive director and legal representative.
Shanghai Art Times has launched the Kido Smart Kids Watch, the first deep-customized children's product from the MFL (Made For LeEco). At the time of the Kido product launch, Zhang Zhiwei, the head of LeTV Eco O2O, also delivered a speech. Zhang Zhiwei said: 'In the LeEco ecosystem, the cooperation with Kido is strategic, and Kido Wacth is one of the core products of MFL's entire strategy. It even includes cooperation at the capital level. '
Shanghai Yi Shi's founder team, Wu Bin is the CEO, Zhang Huimin is the CTO, Feng Xiaohui is the senior vice president, and all three have more than 10 years of mobile phone related work experience in Huawei. Kido chief designer Yang Yuanyuan worked at Huawei for 6 years and was responsible for the interface design of flagship star models such as Huawei P6, Mate7 and P7.
It is said that Shanghai Yi Shi equity has been sold, shareholders get 25 million yuan (not yet known as a single shareholder return or overall return), from the industrial and commercial registration information, Shanghai Yi Shi 4 shareholders have not changed, respectively, Wu Bin, Zhang Huimin Li Jingjing, Yu Yu, the six people arrested, and the four shareholders have many overlaps.
Huawei's crackdown on infringers has always been soft
Before leaving, these employees have been working at Huawei for more than ten years, ranking at the core, and having accumulated a lot of equity. At present, the annual salary and dividends of one or two million are at least.
There are basically two reasons for choosing to go out to start a business. First, there is no way to fully display the personal ideas of the original company. The development space is limited and I want to do things according to my own ideas. Another reason is that there are companies that are very good at digging people, willing to abandon their interests, and dare to make equity commitments. The person in charge of the project being dug has less money, low risk, and has a big profit.
The above-mentioned former Huawei employees were arrested on December 18, 2016. Longgang was detained at the detention center. One day later, Liu Jiangfeng sent a circle of friends and thought deeply: 'This is the same root, and it is too urgent, so I hope to get rid of it. The brothers are in the same mood, and they are very likely to be mapping this matter.
Huawei's legal system is leading in the mainland. Huawei and its competitors often have various disputes. In addition to market competition, there are patent wars and spy wars. In the long-term battle, Huawei has accumulated a lot of experience, and it is not soft to outsiders. Not soft.
Generally, employees who leave the company will sign a forbidden clause, so many of the employees who leave the company will start a business that is different from the previous ones but has some areas to avoid risks. But why are these former employees still caught the handle, and now they have to wait for court decisions.
Huawei's pegged infringers can be acquitted. For example, the former UCC product line president was suspected of violating Huawei's eSpace software copyright, and was detained on April 24, 2014, Shenzhen, July 9, 2015. The Longgang District Court of the city was sentenced to 1 year and 7 months in prison.
Among the groups that left Huawei for entrepreneurship, there have also been cases in which IPR infringement was reported by Huawei. In October 2002, Huawei reported the case to the Jiamusi public security organ of Heilongjiang. Three former Huawei technical personnel of the transfer department submitted their resignation applications at the end of July 2001. They left Huawei to start their own business, developed a new generation multi-service optical transmission system, and sold it to Jiamusi in Heilongjiang. Waiting for the place. Huawei has determined that the act is suspected of infringing Huawei's business secrets. In June 2003, with the approval of the procuratorate, the public security organs arrested three employees according to law.
Huawei can guard against corruption and leaks. In 2014, Huawei disclosed at the anti-corruption conference that a total of 116 Huawei employees suspected of corruption were investigated and investigated. Among them, 83 Huawei employees were internally confessed and 29 volunteered. These were all lightly punished internally, and the remaining 4 were detected. Problem employees are handed over to the judiciary.
On January 17, Ren Zhengfei also took the oath of leading senior executives at Huawei's Shenzhen Sakata Base. The announcement included: not welcoming, not bribery, not using company resources, not telling lies. Ren Zhengfei often emphasizes 'powering out nine holes and making a hole', and he hopes to ensure the unity of employees.
Li Yinan is often cited as an example to explain that Ren Zhengfei likes to fight against dissidents. In fact, Huawei's departing employees have a huge entrepreneurial system, and most of them will not be affected by any of the former employers.
43inch Horizontal Query Machine Integrated
LCD Capacititve Touch Query All-in-one Screen
1,Self-service query terminals;
2,Custom contents for users;
3,Information inquires;
4,Guidance system;
5,Products display showcase;
6,Metal frames not easy to damage;
7,Indoor outdoor both avaiable;
8,Multiple sizes satisfy different needs;
9,Capacitive touch lcd screen,smart operation;
10,4+64G,X86 i3 intelcore CPU;
Lcd Capacitive Advertising Display Screen,Business Guidance All-In-One Touch Screen,Lcd Touch Screen Query All-In-One,Query Machine Integrated Monitor
Jumei Video(Shenzhen)Co.,Ltd , https://www.jmsxdisplay.com