The wave of the Internet of Things is on the rise, as computers and devices become more intelligent, requiring more and faster network connections. Like the previous telecommunications network, the IoT network is experiencing rapid growth and transformation, and is moving to Gigabit Ethernet. Gigabit Ethernet is the first choice for the Internet of Things because of its low price and high efficiency. Especially in IOT applications such as industrial process control, robotics, drones, and car networking, the demand for network speed is rapidly increasing. In response to market demand, XMOS, a leader in intelligent multi-core microcontrollers, has introduced a new line of xCORE-200TM multi-core microcontrollers supporting Gigabit Ethernet, speeding up the network for the IoT industry to Gigabit Ethernet. Flat road.
According to Zhang Shaoxiong, sales manager of XMOS China, the xCORE 32-bit multi-core processor series is aimed at a variety of demanding applications in the global programmable market. The series now includes 120 devices, and the first xCORE-200 devices integrate 16 high-performance devices. A 32-bit RISC processor core capable of delivering up to 2000 MIPs of real-time computing power, and the first commercially available 10/100/1000 Gigabit Ethernet solution with programmable MAC layer support for Internet web servers . The xCORE multi-core processor is more than 100 times more responsive than traditional 32-bit microcontrollers and is used by many industry-leading companies in a wide range of applications in the audio, automotive, server, and industrial control industries. We can say that this advanced feature based on a low-cost multi-core microcontroller opens the door to a full set of Gigabit Internet of Things applications.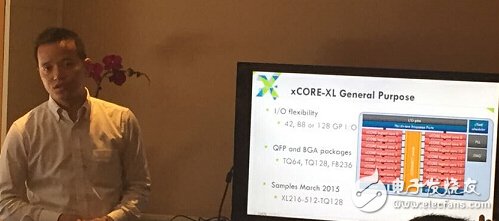 XMOS China Sales Manager Zhang Shaoxiong
Ethernet is the most widely used networking interface in today's wired and wireless networks, and virtually all data, voice, and video data streams pass through multiple Ethernet links. The emerging IoT network is transforming everyday devices into a new class of intelligent terminals with sensors that can be used to transmit and process information. It is foreseeable that the application prospects of the Gigabit Internet of Things will be extremely extensive. XMOS introduces the second-generation xCORE-200, which offers twice the performance and four times the on-chip SRAM storage compared to the first-generation xCORE multi-core microcontrollers. In addition to the performance-programmable XMOS USB 2.0 interface, a flexible Gigabit Ethernet port has been added. Supporting Gigabit Ethernet is a first-mover advantage and has a large market space.
According to Mr. Zhang Shaoxiong, the new generation xCORE multi-core microprocessor has higher power consumption than ARM, and is equivalent to FPGA. It is widely used in consumer products, audio, automotive and industrial control industries. Our most promising applications are: Real-time, fast data collection, factory automation, service robotics, gesture recognition, and more. At present, customers such as Cisco, Helitune and Pivitec are already using it, and the market response is very good.
It is worth emphasizing that the IoT market requires many new infrastructure features, including greater scalability, flexibility, and the ability to support high-bandwidth applications and services. And the market demand is exceptionally fast, and it's important to shorten the development process and reduce risk. Using xCORE multi-core processors enables engineers to work in the same intuitive design environment that combines application software, digital signal processing and programmable peripherals. The design with xCORE can be quickly deployed and easily extended, and the design is very easy to work with. It provides multiple 32-bit processing cores that can handle and real-time tasks. What kind of functions are needed, adding software into a SOC, rapid prototyping, and rapid mass production, it is as flexible as FPGA. Supports high-level compilation of code brought by high-level languages ​​such as C and C++. The perfect code compatibility makes it more flexible. It can be configured as any combination of various external devices and external interfaces. The timing is completely determinable and the software is coded. Predictable simultaneous timing is more accurate.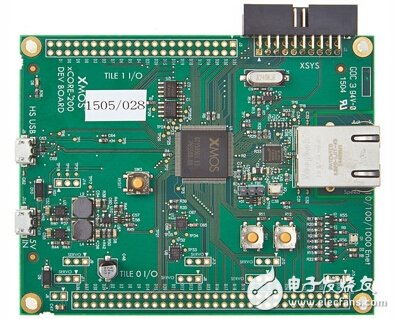 Easy to use and flexible xCORE-200 eXplorerKITTM evaluation board
For the different needs of the Internet of Things, it is also necessary to provide processors with different core numbers and different RAMs. XMOS's xCore-200 includes three series of processors with 8-32 core and 128KB-1024KB RAM. According to different needs, we can choose the right core and RAM processor, which greatly improves the service scope of the product. xCore-AUDIO is XMOS customized audio processor based on the general multi-core processor xCore-200, and is customized. Different products can be customized according to different goals and application scenarios. For emerging markets such as stereo high-resolution USB headphone amplifiers, decoders and power amplifier systems, xCore-Audio Hi-Res; support for professional customers and professional audio applications, including DJ toolkits, mixing, audio in-house authoring and For teleconferencing technology, there is xCore-Audio Live.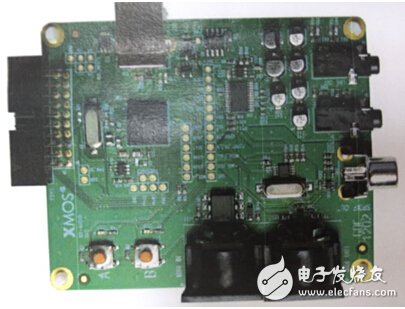 xCORE-AUDIO Hi-Res board
The high-resolution, multi-channel professional consumer audio solution xCORE-AUDIOTM processor enables customers to extend digital audio mixer and audio interface functions to create on a single-chip, low-cost, reliable and flexible multi-core platform Up to 128 high-resolution digital audio channels.
IoT products are critical for accurate data acquisition and system control, and xCORE devices deliver superior hardware real-time I/O performance with low latency and support for fully independent system control and communication tasks Does not generate any real-time operating system (RTOS) overhead. The hardware real-time performance of the xCORE microcontroller enables customers to implement very precise control algorithms with no jitter in the system. And the xCORE-200 device is capable of capturing and processing multiple critical sensing units in real time, and the xCORE-200 multicore microcontroller family can be programmed and configured in an all-software manner, which is critical in demanding applications such as real-time data acquisition. Very perfect partner.
Plate non-damaged desulfator with Smart pulse,Simple and Safe,Save your money, time and worry.
Most of Electric vehicle use lead-acid battery bank(12V /6V /8V cells packed in Series)as the power source. The design lifespan of battery is 2~3 years, but actually the battery is usually failure after 6~12 months used which State-Of-Capacity gradually decline and even some scraped. Through analysis by cutting a large number of failure batteries, the battery water loss and sulfation is quite prominent. Such as the phenomenon of battery sulfation and dehydration can be effectively inhibited to prolong the service life greatly up to 2 times.
Battery Smart Pulse Charging Restorer is a new generation of high-tech products developed specifically for restoring Electric vehicle battery and UPS power system when it is charging every time, it utilizes the energy from the charger, generating electronic smart pulse with special frequency to be resonance with the thick lead sulfate crystals in battery charging process. Under the disturbance by the specific frequency pulse, the recrystallization of lead sulfate can be prevented effectively.
Battery Charger And Restorer 2-in-1 is a multiple-stage charger with smart pulse maintenance ability.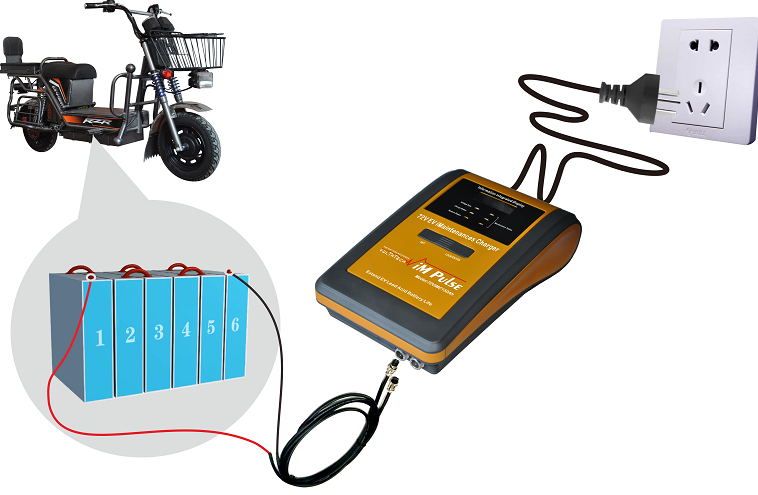 This innovative, state-of-the-art battery restorer smartly knows how to restore battery in charging process, Unlike other common chargers on the market, you don't need to select the battery type. It works smartly on any type of 12/24/36/48/60/72-Volt lead-acid battery – VRLA, AGM and flooded. Proprietary algorithms combined with microprocessor & IC controlled technology measure the battery's voltage and current to automatically determine and deliver the precise pulse frequency and duty cycle based on the size and condition of the individual battery.
It is more than a common pulse charger and desulfator. During the restorative battery charging cycle, VoltaTech's patented, optimized frequency pulsing and smartly changeable duty cycle constantly work to minimize and reduce battery sulfation and internal resistance. By reducing the size and number of lead sulfate deposits on the battery plates- the No.1 cause of battery failures, increase capacity and release energy to keep battery in new conditions, your battery will charge deeper, maintain greater reserve capacity and last longer service lifespan– up to 2 times longer.

Battery Smart Pulse Charging Restorer
Battery Smart Pulse Charging Restorer,Battery Charger Restorer,Smart Battery Charger,Deep Cycle Battery Charger
Shenzhen Daceen Technology Co., Ltd. , https://www.daceen-sz.com