Polycom Semiconductor announced that it has launched the "Application Specific Standard Product Crystal Oscillators (ASSP-XOTM)" product line with frequencies ranging from 2MHz to 159MHz. The product line offers a new paradigm for quartz crystal oscillator products with the best performance, ready availability and the most cost-effective price point to meet a variety of application needs.
This article refers to the address: http://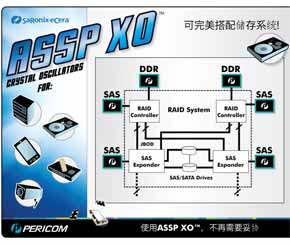 Pericom's new ASSP XO product line provides low-time and low-power reference clock frequencies solutions for a wide range of serial connection communication protocols to provide optimal application-specific solutions Technology. When designing and validating oscillator products for a new system design, especially for projects that require Time To Market, this new quartz crystal oscillator (XO) product line addresses those in performance and delivery. A compromise that has to be made between time and cost. Pericom products offer products that are not required to be ordered for the most popular frequency points, reducing the time required for the design cycle while achieving optimal performance.
Kay Annamalai, senior director of marketing for Pericom's frequency products, said, "We combine our proprietary patented design technology, vertical integration in our own plants, and reference designs from key chipset partners to provide solutions beyond existing solutions. A unique value system for the program."
The ASSP XO solution addresses the needs of high-growth markets such as networking, storage, high mobility, digital media and security products. In network product applications, shipments of 10Gb Ethernet will reach 15.1 million units in 2012 (Dell'Oro, July 2008), and the number of EPON ports will increase from 4 million units in 2007 to 2012. More than 13.2 million units (Linley Market Research Group, 2008). In the storage market, the delivery of enterprise-class terabytes hard drives will increase from 32 million units in 2009 to 140 million units in 2012 (IDC Report, February 2009). In the Ultra Mobility, smartphones grew by 23.7% between 2008 and 2009 (Gartner, February 2010).
The new ASSP XO product line uses Pericom's patented XP clock circuit technology for frequencies of 150MHz and above, providing better reliability than other overtone solutions. In addition, this product line uses Bulk Acoustic Wave quartz cells, which provide better stability than other SAW or MEM designs. High stability is important for many applications such as WiFi. The ASSP XO product line offers typical phase jitter of less than 0.5ps, providing the lowest time-base error for high-speed signal applications while consuming as little as 2.0mA.
The ASSP XO product line offers a total of 19 products for five market segments, with OEM prices ranging from $0.50 to $2.95 per unit at 10K.
Traditional refrigerators use a lot of traditional energy. From the current situation of global energy supply and environmental protection demand, the development of clean energy refrigerator will be an inevitable trend. In addition, electricity and power shortages in Africa and other remote areas have not yet been incorporated into the power supply network, and it is impossible to use refrigerators to preserve food, providing a potential market for the development of solar refrigerators. Solar Refrigerator mainly includes solar photovoltaic refrigerator and solar semiconductor refrigerator. Solar refrigerator is based on traditional compressed refrigerator, which is composed of solar cell, controller, accumulator and refrigerator. The refrigerator USES not only solar energy but also ordinary household materials. It is the most ideal household appliance in developing countries.
Solar Refrigerator
Solar Refrigerator,Solar Power Refrigerator,Mini Solar Refrigerator,Energy Saving Solar Refrigerator
ZHEJIANG FIZZ NEW ENERGY CO.,LTD , http://www.ywfizz.com