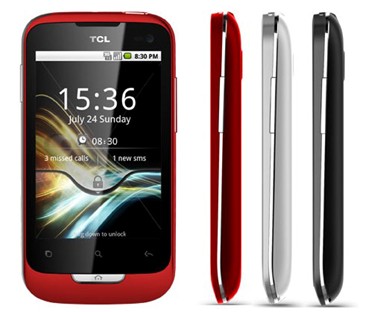 In the era of mobile Internet, people are increasingly demanding the social functions of smart phones, and the demand for instant messaging software is also increasing. This demand has enabled a large number of social applications such as Fetion, MSN, Tencent QQ, WeChat, and Weibo clients to be deeply embedded in smartphones. Among them, Tencent has won widespread popularity for its extensive product line and products that are more consistent with Chinese audiences' habits. Therefore, many mobile phone brands have launched Tencent customized mobile phone products.
Moreover, in today's popularity of Android phones, due to work and communication reasons, many people have prepared two phone cards to separate public and private. However, using two mobile phones at the same time may be a bit more troublesome and inconvenient to carry. Therefore, the dual-mode mobile phone has naturally become tight. In view of the above two conditions, TCL Communications, a top mobile phone manufacturer in China, launched a dual-network, dual-standby, smart cloud phone, the TCL Xiangyun A966, which is strategically collaborated with Tencent in January. I hope Tencent QQ's die-hard fans and friends interested in dual-mode phones pay close attention to it.
TCL Xiangyun A966 is a candy bar smart phone with Android2.3 operating system. And, from the name "Xiangyun", it can be seen that this is still the most popular "cloud mobile phone". The aircraft CPU frequency reached 650MHz, has 256MB of memory and 512MB of read-only storage space, and supports 32G memory card expansion. In addition, TCL Xiangyun A966 also uses the same size as the iPhone4S 3.5-inch bright large screen, resolution of 320 × 480 HVGA level, while supporting multi-touch. And equipped with 1300mAh large capacity battery, effectively extending the standby time.
TCL Xiangyun A966 supports GSM and WCDMA networks, achieving a peak downlink rate of 14Mbps. And the aircraft is also equipped with front and rear dual camera, rear camera for the mainstream of 5 million pixels, front camera is 300,000 pixels, to facilitate 3G video communication. And, the aircraft also supports multiple formats of video playback, entertainment performance is excellent. As for data transmission, the aircraft supports WiFi, WAPI and Bluetooth transmissions, and can use the FM radio function.
In terms of personalization, TCL Xiangyun A966's mellow appearance, the body is simple and neat, texture is full, there is a non-slip pattern on the back cover, and the hand is also very outstanding. Moreover, the aircraft also offers elegant white, magic red and gentleman black three color shell to choose from. Both the beauty-loving girls and the business-minded white-collar workers as well as the petty bourgeoisie of the arts and crafts are able to find their own colors.
Of course, as a "Smart Cloud Phone" launched with Tencent's deep customization, TCL Xiangyun A966 has built-in rich custom cloud applications that fully integrate Tencent features. One of the most important is the Tencent skin and Tencent software.
For example, Tencent's desktop is simple and elegant, users can be classified according to (games, entertainment, tools, communications), more "Tencent boutique" gadgets, integrated Tencent popular applications; Tencent microblogging, at any time, "listen" famous celebrities, and in circles Friends share the good news for the first time; QQ browser, nowadays the most popular mobile browser, collect all popular websites, integrate Tencent applications, and facilitate the management of information classification! In addition, there are such as QQ reading, WeChat, QQ security steward, QQ space mobile client, QQMusic and mobile SOSO. To facilitate the majority of mobile phone users to achieve timely communication, sharing, communication and other needs.
As an Android2.3 smart machine launched with Tencent's deep customization, the machine's price will be less than 1,500 yuan, as long as 1490 yuan can buy such a dual-mode custom version of the smart cloud phone. Such superior configuration, integration of Tencent's rich "cloud applications" plus dual-mode features can definitely make your work and life more convenient. A friend who has recently purchased the program may wish to refer to it.
Led Heat Sink Aluminum,Die Casting Heatsink,Aluminum Led Heatsink,Led Die Casting Heatsink
Dongguan Formal Precision Metal Parts Co,. Ltd , https://www.formalmetal.com